04-24-2013, 04:20 PM (This post was last modified: 04-26-2013, 03:34 AM by Frisk E. Coyote.)
This is a Private RP between Dashte and Frisk (moi)! Please refrain from posting here if you aren't either of us, please and thank you!
Dashte strolls up along the roadside curb, taking in the late afternoon glow of the setting sun, an old retro diner coming into view just before the next intersection. He briskly approaches the door and walks in, bearing a bright smile. A young waitress greets him. "I'll grab the table near the windows please."
He follows the waitress down the aisle, appreciating the old 70's & 80's pictures and memorabilia strewn across the walls and ceiling. Sitting down and ordering a cup of coffee while waiting for a good friend to arrive.
There was always that…
excitement
deep down whenever Prowl went somewhere new.
You'd think that after all the things he'd gone through as
ZODIAC
Operative, from wrangling a velociraptor clone of Elvis to beating a giant drug dealer into submission with the sword in the stone (stone still attached), that things would cease being exciting for him.
But that
really
wasn't the case.
A grizzled war veteran, an agent of the shadows, and a living weapon on the run…
The 34 year old man couldn't believe he had the
butterflies
!
-It had just been… such a long time since he had been in what was essentially a "date".
Standing outside the diner, the coyote allowed his old habits take hold for a moment or two, scanning the area and establishing the quickest access to a firearm (he never carried one on his person) and the most efficient route of escape, he smacked himself across the muzzle and told himself to think more like a civilian.
This was a nice diner, and it reminded him of a much simpler time. He sighed in nostalgia at the trinkets of past eras, the sweet 70s and bangin' 80s, where he grew up as Wylie Evans.
Entering the diner, he put on suave, roguishly charming smile that he had naturally developed, not as an agent of subterfuge, but a man of charm and seduction. He didn't stand out
too
much; he stood at 6'4" and wore a pair of shades that hid his sulfur yellow eyes (beautiful or terrifying, he preferred to play it safe by keeping them hidden), a denim jacket, sans the sleeves, so his arms and broad shoulders were in plain view, while a simple white muscle shirt that clung to his muscular torso, a pair of camouflage patterned pants and army boots. Nothing too thuggish (he hoped).
Skimming over the patrons, he smiled warmly as he recognized the horse from the sole picture he had online. He spread his arms slightly as he padded over to the horse's table. "Dash!" He greeted with a warm chuckle. "That you, man?" He asked, his deep, masculine voice tinged with a slight Brooklyn accent, was very friendly and surprisingly docile for the military man.
"It sure is!" The horse said. "It's good to finally see you!" Rising up and patting his friend on the arm. "Did you find the place alright?" he asked smiling.
"Oh yeah, not a hitch! Swallowed a few bugs, but hey, fuck me for taking a motorcycle, right?" The coyote chuckled, thumping the horse's shoulder in a friendly manner before he took the seat adjacent to him. "Huh, you're a lot bigger in person." He smiled cheekily, and though his sunglasses hid his eyes, he was certainly giving his friend the ol' once-over.
"I think this calls for a proper introduction!" He offers the stallion his hand to shake. "Prowler Dharke. You know me better as BigDaddy75 on the board and Coyote_Ugly on skype. Were you warned about meeting people online, young man?" He sneered in playful manner, pretending the horse did not already know his name. They've been friends for ages, after all!
"Well sounds like you already had good meal on your way over." he said, chuckling. He reaches over to grasp the coyote's hand for a firm yet playful handshake. "Dashte Tavas. And who are you calling young man! Last I checked you're not too far ahead of me ya old geezer! He said in a sharp joking tone.
Peering outside the window he spots Prowler's sleek ride parked just out front. "She's a real beut'! I've always wanted to get one of my own." He said, taking notice to the shades still on his friends snout. "I bet you were blasting I wear my sunglasses at night while you were cruising on down here, huh? He said teasingly.
"Ehh, I could use a litte somethin' to wash those suckers down with, now that you mention it." He admires Dash's firm grip, squeezing his hand amiably in return. "Well I never!" Prowl took on a mock-lordly accent. "I oughta put you over my knee and give you a spankin'!" He grins, leaning over to speak in a deep, sultry, but playful whisper. "But you might just be into that sorta thing."
Casting his gaze out the window, he smiled at the Harley Davidson he had chained up outside. It was one of those bigger bikes, loud and powerful. "Ah yeah, Harley. My pride and joy." He smiled at the bike dreamily. "If'n you want, I can take you out for a spin sometime, maybe give you a few riding lessons."
Prowl laughed at the stallion's teasing. "Afraid I wouldn't be able to hear anything over my baby's roaring!"
He tapped his shades as the horse brought attention to them. "I got really light-sensitive eyes. Sort of a birth-defect. See?" He pushes them down slightly, showing Dash his intense and unnaturally bright yellow eyes. They were practically glowing. "Also, they're sorta like bug-deflectors out on the road!"
"Whoa, That's different..." He said, noticing he was blushing as he gazed into the coyote's gleaming eyes. He quickly straightened himself upright and cleared his throat. "So how about those drinks! I'm guessing a strawberry shake with sprinkles on top, right? He said snickering. Winking one eye and gesturing at him.
Chuckling, Prowl straightened up in his seat and leaned back slightly so his broad chest pushed out from within that denim vest with the frayed sleeves. "That sounds nice, actually. They got burgers and fries here, yeah? Cuz I think I haven't eaten all day."
"You're in luck, they have some of the best burgers in the city right here!" Smiling broadly he reared his head up and waved for the waitress. "I'll take the hotdog combo with everything and Chocolate N' Vanilla twist shake, please. And this gent will have the house special burger!" He then caught himself and turned to Prowler with an apologetic face. "How'd you like it done, man?"
"Medium rare." Prowl nodded and smiled at the waitress. "And I make that two of those Chocolate n' Vanilla twist shakes, thanks!"
He chuckled at the horse resing his cheek against his knuckle as he gazed into the horse's eyes. "Y'know... it's kinda refreshing having someone take the lead." He smiled at the horse approvingly. "You're like, the first guy I've eaten out with since, well, ever! I like it."
The horse tries to hide his blushing cheeks, folding his sculpted forearms behind his head and leaning back and grinning shyly. The buttons of his flannel shirt holding strong from the extra strain added from his chiselled pronounced pecs pressing firmly against the soft fabric.
"Same here, I rarely get the chance to hang out anymore! I'm really glad you could make it out here for the week. There's so much to do and see out here!
Prowl noticed the horse's blush, but spared him the embarrassment by holding out on a comment. Besides, shy fellas were cute, and though he didn't normally go for men, Dash had a physique he could admire. Boy was built like a brick house and a hundred times more eye-catching. "Well, the night's still young! What do you think we'll get to do after dinner?" He asks with genuine excitement.
"You got gyms around here, right? Or did ya get those sick pythons lifting bales of hay or something?" He nodded at the horse's muscular arms and powerful chest. He could picture the stallion as a farmboy, wearing nothing but a pair of denim overalls, his sweaty muscles rippling as he did some heavy lifting under the sun. Sure, it was just a fantasy, but it turned a corner of his muzzle up in a subtle little smirk.
"You bet! There's a gym not too far off on the other side of the river! The place is stacked with basketball courts, racket rooms, pools you name it!" Dash motioned his head toward the tree line across the street. "We can hit it up afterwards and go for a few rounds of lifting. How well do you swim there, bud? Think you can beat me in a race in the swimming lanes?"' He giggled, tilting his head.
"I could go for some lifting. Gotta stay in shape after all! If I let myself go, it'll be pretty hard gettin' this back!" Prowl nodded, playfully lifting the hem of his shirt and knocking his knuckles against his solid, furry eight-pack. "How I swim, he asks!" The coyote laughed at himself. "I love swimmin'! I used to skinny dip all the time, when I was a boy!" He smirked. "It's been years since I did any, but I bet I can beat the pants off ya!" He challenged with a wink.
Dash rubs his fingers back through his long curly mane. "Woo, I could only imagine how much it took to be able to show off those bad boys!" He said sheepishly.
"Let's not go too far back into the past now old man, don't want to have you blowing a gasket recalling back too far!" Laughing softly to himself, he then quickly threw his hands up. "I'm playing, I'm playing!" As he saw the stern face Prowl was giving off.
He slowly regained his composure. "We can go for a dip too if you're up for it, I'm sure it'd be a blast getting to stretch out and swim after so long!"
"Crunches, sit-ups and a fuckton of hardcore sex." Prowl replied matter-of-factly, as if he was being completely serious. "Keep imagining." He crossed his arms and grinned.
Prowl arched a brow at the old man comment, then playfully raised his arms in mock-disagreement. "I haven't even had my first mid-life crisis yet!" He laughs, clearly quite able to take a joke. "Sure, I'll show you how to doggy paddle."
"Doggy paddle! I'll sho-" Dash was cut off midsentence as the waitress brought over both their orders and set the steaming hot plates down in front of them. "Aw finally, I was starving!" Dash took a glance at their waitresses name tag. "Thanks allot, Lucy!" He said appreciatively. Licking his snout with overzealous he dug into his meal. "Woo! hawt hawt hawt!" Dash grabbed his shake and guzzled down a few gulps to cool off his tongue.
"Ha ha, you sure like them hotdogs, huh champ?" Prowl teased, licking his muzzle as his short tail wagged. "Thanks honey." He nodded at the waitress with charming little smile. He took a big chunk out of his hamburger and practically let out a blissful moan. "Mmm... oh that hits the spot... now that's a good burger!"
"Heeyy, Who doesn't like a good dog once in a while!" Dash laughed, taking another generous bite. "I kind of veer away from burgers, I took a lot of heat from a bovine friend of mine whenever I'd tried, hehe!" He lifted his shake up and finished off the last of his delicious shake. "So how have things been going for you lately? I haven't heard from you in a while." He asked, casually tossing a french-fry up and catching it in mid-air, making a game out of it.
"Aw, that's a shame! Sometimes it takes a good hunk of beef down your throat to quench that deep... hunger." Prowl growled in a low, playful, intentionally obscene manner. He finished his own meal in a few bites and savored his shake.
"Mmm... been pretty busy, buddy. I got work at Salami Sam's and the construction site, but I'm quittin' them to move here. The kids are a handful, but I love em to bits." He laughs. "They're at the age where they're asking... awkward questions that I ain't fit to answer. Hell if I know anything about a uterus!"
"I'd really like it if you walked me around town sometime this week, actually, so I can scout it out?" He asked the stallion, finishing up his shake. "How about you? Been up to much?"
Dash gives Prowl a seductive look and smirks. "Yeah, nothing like savoring a nice hot piece of Grade A meat!" Playfully rubbing up on the coyote's pants leg up towards his thigh. "Two jobs and raising all them kids must have had you going through a loop!" He spread his arm across the length of the booth and leaned back, patting his stomach as he was satisfied from the tasty meal and drink.
"We'll set something up so I can give you a tour around the town. We'll make a day out of it!" Grabbing the complimentary toothpick at the side of the table, he popped it in the side of his muzzle and played with it. "I nailed a sweet gig down by the local farm out near the edge of the city. It' not the best of pay, but the work sure does help out when I get a lazy and miss out on the gym some days." Dash catches their waitress out of the corner of his eye and signals her for the check.
Prowl arched a brow and cocked an ear with interest as he felt the horse's hand on his thigh. He chuckles and places a paw over the horse's rubbing it lightly. "Oh you have no idea! This week's like, the first breath of fresh air I've had in a while!" He laughs.
He covers his muzzle with a loose fist, letting out a quiet burp. "S'cuse me, but damn that was a good meal." He sighed, a goofy expression of satisfaction softening his features. He fished his wallet up and flipped through a bunch of bills, pulling out a crisp $50. "I got it." He chuckles. "And I'm lookin' forward to that tour!"
"Haha, well good for you. If you show me where you work out, I'll be your spotter!" He grinned. "Maybe give you a little
smack
on the romp to get you to gallop."
"Haha! Haha! No..." The horse said smartly, bearing a broad grin. Maybe I'll show you a few exercise moves that'll have you howling." He said while sticking out his tongue, being silly. Oh, and thanks for the food! I'll make sure to treat you next time! Dash scoots out of the booth and stands tall, stretching out. He then secretly takes a 50 dollar bill from his wallet and slips it into Prowls vest when he wasn't looking.
"You all set to hit the weights? Glancing down at his watch, he raises his brow. "At this time of the night it should be pretty much vacant! We'll have the place to ourselves without any hassle of waiting around for a machine or bench to be up!" He reached around the coyote's shoulders and brought him in close while they strode towards the entrance, playfully shaking his friend from side to side.
"Oh-ho! That I'd like to see!" Prowl chuckled deeply, getting up and stretching his arms over his head, his muscles tightening audibly as he flexed out and yawned a little. "Mnm... whoo boy, haven't had a night out like that in a while!" He pockets his paws, fishing out the $50 that Dash had put there. "Huh. I found 50 bucks in my vest." He noted. "Must've stuffed in there and forgotten! Lucky!"
"Hell yeah! A good meal always gets me rearin' for a good workout!" He laughs and loops his arm around his friend's waist, shaking the stallion with him. "We can have a full session all to ourselves, eh?"
"Wanna take my bike, bronco?"
"Sounds good to me! It's straight up the road, maybe a 5-10 minutes ride there at best." Dash rushes over to Prowl's bike. "Shotgun! Y'know, in motorcycle terms that means I should get to drive!" he said, laughing out loud while folding his arms behind his head.
"Aw no, we're doin' this safely!" Prowl hands the horse a spare helmet. "That means you're ridin' bitch." He snickered, grinning widely as he straddled the bike seat and scootched Dash further back by pressing his firm rear back against the horse's groin. "Arms around me now, and give my directions by speaking into my ear!" He thumbed up at his ears as they fitted through the slots on his helmet.
"Well, I gave it a shot at least." Chuckling as he carefully positioned the helmet over the tips of his ears.
"Got it!" He cheered, giving the thumbs up and nodding enthusiastically as Prowl pointed at his ears. Dash brought his arms around Prowl's well-toned waist and nuzzled against the back of his shoulder as they drifted down the road toward the gym.
The motorcycle purred to halt in front of the gym soon enough, and though it was late in the evening, Prowl was glad to see that it was still open, like the horse had said. "They open 24 hours?" The coyote asked hopefully. The gym was huge though, and it got the coyote excited.
"Yup! This baby is brand spanking new too; the grand opening was just last spring!" Dash unbuckled his helmet Prowler gave him and stood beside the bike, gazing up towards the 3 story building.
"The pools and locker rooms are on the main floor, Weights on the 2nd and you get a great view up top on the 3rd floor while on the cardio machines!" His tail swishing from side to side with excitement.
Tucking his helmet underneath his arm, he laughed and grabbed the horse's forearm, tugging him along into the gym. "Well c'mon! Let's get those carbs burning!" Prowler loved to keep fit. There was just something about his muscles aching in just the right spots that made him feel great. It was possible that he was also a bit of a masochist.
Dash skidded along the sidewalk and jostled up the stairs as he worked to keep up with Prowl's eager pace. They reached the front entrance and wandered inside towards the front desk. The proportions of the front lobby were quite small compared to the sheer size of the entire building. Sitting behind the service desk was a doberman.
A baseball cap strewn over his face, making it apparent that it was a rather slow night at the facility. Dash raises his index finger up to his snout for prowl not to make any loud noises as they both strolled past the swinging doors into the men's main locker room. "Looks like you're going to get a free nights trial period! Don't worry if they happen to catch on to you, though. I'll vouch for ya!"
"Well aren't you a regular James Bond?" Prowl whispered playfully when he was certain they were out of earshot. He was already on high alert, blood pumping furiously so the lab-engineered chemicals running through his veins sped up the spread the toxins throughout his body, his yellow eyes now clearly glowing behind his sunglasses. He gave the horse's rump a playful smack as they entered. "Second floor, pal?"
"You can say that." clasping his hands together and pointing them up in the shape of a gun. The name's Bond, Dash Bond~!" He giggled frantically. "Right, I'll race you there!" And with that he bolted towards the stairwell towards the 2nd floor. As they reached the 2nd floor doorway they entered the vast open layout that harbored a huge variety of weight machines.
Dash gestured over to his right and pointed out the rows of empty weight benches. "Ah, it's so quiet here. They should really turn on the sound for all the TV's or something or at least turn on some tunes!" Lifting 50lb weights and setting up a press bar atop one of the vacant benches. "Alright, who should go up first?"
Prowl shucked his vest off and propped it down on a vest, leaving him in that tight, white tee, the cotton fabric hugging his powerful torso. He gestured gallantly for the stallion to go forth. "After you, Sir Bond." He teased, tail swishing lightly. After all, this was the stallion's gym.
Also, he wanted to see the younger male in action.
Dash gazed at Prowl's physique in admiration, unbuttoning his flannel shirt and tossing it beside the coyote's vest, revealing his tight indigo t-shirt that strained against his subtle movements. He lowered his big hands down and casually lifted up his shirt up over his slab of toned abdominals up past his thick defined pecs that were earned over repetitive days bending and lifting up heavy bales of hay and tugging heavy farm machinery across the pastures.
"Don't want to ride home soaked and reeking of B.O. for ya!" He chuckled. "You should do the same, next time we'll bring a spare change of clothes to change into." And with that he placed his hand on nearby bench and undid the buckle around his wide beefy waist and shimmied his skin-tight jeans off.
A pair of "Studwear" boxer briefs barely containing the bulge in front of his crotch. "Ah that's better~!" He grinned, winking slyly at Prowl as he wanders over to the bench he set up just prior to his non-intentional *cough* strip show.
Prowl playfully wolf-whistled at the horse as he peeled off his shirt, grinning and waggling his brows at Dash suggestively. He waited for the horse to finish, admiring his broad, well-toned physique and not caring to hide his admiration of it.
"Was thinkin' of doin' the same anyway." He chuckled, reaching forward and sensually tracing a fingertip over Dash's chest, trailing it over the thick definition of along the side of one of his pecs. "Nice chest, Dash. You do a lot of heavy lifting, huh?" He complimented, before reaching up and slipping his shades off so his eyes, now a warm golden color, gazed fondly into the stallions.
He padded over to his vest and tucked the sunglasses into the front pocket, leaning over and giving the horse a great view of his firm, masculine ass.
Having very much enjoyed his friend's show, the coyote decided to give him one in return. He crossed his forearms over each other and gripped the sides of his shirt, pulling upward so the cotton fabric smoothly slipped upward, revealing his sculpted abs and toned waists one pair at a time, followed by the broad, steely mounds of his pecs, honed through years of rigorous, borderline torturous combat training and body sculpting. He winked at the horse coyly, turning away to prop a foot up onto a bench, undoing his shoelaces and stepping out of his boots, one foot at a time. He tugged his socks off his large feet, tucking them away into his boots, and hiding his boots underneath the bench.
Finally, with his muscular back still against the horse, he undid his belt and pushed his pants down to his ankles, bending over so his dark blue, square-cut boxer briefs pulled tightly over his sculpted, surprisingly rounded and pert asscheeks, clenching them for the horse's pleasure before straightening up and stepping out of his pants.
He turned to face the stallion, crossing his arms over his bare chest. His thick, flaccid length seemed to barely fit into his underwear, the girth forming a lewd, sexy bulge toward his hip. "I'll be sure to bring my gym shorts along next time." He grinned.
Dash giggles as he feels the coyote's finger trail along his chest, putting in the extra effort to flex for him. "I do plenty, on and off the job." He chuckled, rubbing the rear of his neck bashfully. As Prowl began to take off his shades, he couldn't believe what he saw. His friend's eyes were glowing with an incredible golden hue.
Dash couldn't help but gaze back in awe, soon realizing his maw was agape. He quickly shook his head and tried start up a topic to avoid Prowl from teasing him about it, but paused as he saw the coyote begin to lift up his shirt.
Dash couldn't believe what an incredible body his friend was sporting. He was beginning to worry he might lose it and bust out with a hard on. Prowl didn't do much to help as he turned around and undressed showing off his amazing ass.
"God damn, I knew this was gonna turn out to bite me in the ass!" He thought to himself. He reached down to fuddle with his growing erection as it was wrestling to escape the tight confines of his briefs. Trying to cover up his more than obvious bulge that now rose up all the way past the waist band, his wide flare showing well past his navel.
He gasped as Prowl was nearly finished, turning around to hide his lewd state. "Yeah! Can't believe we forgot about a change of clothes, huh?! Hahaha!" He snickered nervously. "I think I'm gonna head to the john real quick, gotta take a massive leak! Get yourself warmed up with some stretching so you don't bust a nut!" He shouted out playfully as he ran (or more appropriately waddled) back toward stairwell, down to the men's locker-room.
"Bust a nut?" The coyote wondered silently, a provocative grin teasing the corners of his muzzle up. "Sure, take your time." Prowl complied casually, so as to not make the horse nervous.
The coyote's keen ears picked up on Dash's frantic heartbeats and tone, pitch and cadence of his voice, coupled with the scent of the male's musk and arousal, he did not need the super-computer calculations his brain put together to tell that the horse had a little- or rather- a
large
predicament in the downstairs department.
Poor, sweet Dash. Prowl started doing his stretches, surprisingly limber for his build, as he considered his options. What could he do for his horsie pal?
"C'mon, c'mon! Go down already!" Dash leaned up against the bathroom stall door as he closed his eyes, trying to think up something to take his mind off of his visiting friend's tight, hot body. "Grandma nude, Grandma in the nude!~" Dash clinches his eyes shut and shutters. "Aw finally..." He sighed in relief as his massive erection slowly receded back below his boxerbriefs.
"Raptor Jesus Christ, me and my big fat mouth!" He muttered to himself, banging his clenched fist against the stall. "Should of just went out for drinks or show him around a few of the clubs. Now I have to fight myself to keep cool so I don't freak him out too much. The guy's as straight as an arrow! Prowl's even got kids." The dejected horse let out a long winded sigh.
Turning around slowly, he unlocked the stall and made his way over to the sinks lined up against the wall. While giving his hands a quick rinse and shutting off the water, bringing his gaze up toward the mirror perched in front of him.
"Ok!" Closing his eyes and taking a long deep breath and exhaling. "You got this, Dash! Don't mess this up!" He said winking at himself and throwing up the Fonz gesture. He shook his head, snorting softly as he made his way back up towards the 2nd floor weight room.
As he made his way past the door frame into the expansive room, he saw his friend Prowl stretching away and loosening up. Cringing as he saw his rock hard body at work. He quickly snapped out of his daze and shouted over to the coyote "Whoo-wee, sorry 'bout that, mate! You ready for an intense workout?" Slapping his hands together eagerly and rubbing them together.
Prowl had been on the floor, legs splayed out slightly and was in the middle of touching the toes on one foot with both paws when Dash returned. He beamed and pushed himself back off the mat, his tight muscles rippling as he rotated his sturdy shoulders.
"Hey, welcome back! Did you wash your hands?" He teased, turning back to face the bench and fishing his phone out of his pants pocket and checking the time. He dipped his thumb into the back of the waistband and stretched it out a little as it had been slipping down one of his round, firm glutes, and tugging it up, drawing it tightly so the firm shape of his ass made a nice indentation on the fabric of his underwear, his heavy ballsack making a clear and inviting bulge between his legs.
"Right, it's pretty late," He turns back around to face the horse, bringing his phone up to about Dash's eye-level to show him the time. "How long do we get to dick around in here?"
Dash chuckled nervously, "Uhmm...well the gym's open 24 hours. We can just get in something quick and use the showers to wash up if we get too worked up. I saw some fresh towels back by the lobby!" Dash started to become somewhat flustered has he tried to hide the fact he was getting anxious. Faint redness appearing on the bashful horses cheeks and ears.
"Or... we could just come back another time if you want to! It is getting pretty late." The horse laughed coyly as he soon fell silent, his anxiety getting the best of him again as he found himself lost for words, unsure and confused of what to say next. All that he carerd about was ensuring his friend was having a good time.
"Tell you what," Prowl says, walking up to the horse, pressing his paws against Dash's chest and playfully backing the younger, taller male up against a wall before propping his paws up on the wall on either side of Dash's head, not giving the horse anywhere to look but forward at him. He smiled up at the other male, lips curling up provocatively though his brilliant eyes were kind and understanding, though a spark of playfulness was hinted with an arched brow. His firm torso pressed up against Dash's, the bulge of his thick malehood lifting up the horse's sack just a little bit.
"Let's work up a bit of a sweat..." He whispered hotly underneath his breath, lips invitingly grazing against Dash's as he spoke, so close that his hot breath rolled sensually over the stallion's neck. His eyes, half-closed, gazed alluringly into the stallion's as he reached up and lightly rubbed the rim of Dash's ear with his thumb. "Hit the showers... and I'll sign up for a week's membership so we can come back every night. Whaddaya say," Prowl gently dragged his tonguetip up against the horse's chin in a friendlier, rather than sexual gesture. "
buddy
?"
Dash's head was runng a mile a second, not able to take in everything the handsome coyote was saying. He couldn't help but bask in Prowl's remarkable golden eyes that seemed to glow fondly. Feelings and yearnings swirling uncontrollably, as his hearts paced faster and faster.
He couldn't believe what was happening.
He liked his old bud Prowl; he thought the world of the guy. "He's just so smart, confident, charismatic, easy on the eyes, good looking… did I mention totally hot?" The horse thought to himself. He quickly crashed back to reality as the sexy coyote grazed the tip of his tongue against his chin.
His whole body moved forward briskly, seemingly all by itself without even thinking about it. The coyote's face getting closer as he gazed into the glowing orbs that pulled him in, unable to turn away from their incredible grasp on him.
The horse's eyes shut slowly as he pursed his lips firmly against Prowls muzzle. Time seemed to stand still, his mind adrift on only the moment as he savored his very first kiss. While the few seconds seemed like a millennium to Dash, he sprang back and got a hold of himself " I'm sorry, I-I really like you as a friend man! I kind of lost it there for a sec! Hehe!" He chuckled, casually rubbing his head.
Prowl's half-closed eyes shut as the horse kissed him, sparing the tender moment from his scrutiny so he could enjoy it the way any kiss should be enjoyed. Nothing but the touch- the sensation of another person's lips, a tender moment when two people connect and the passion they've been holding back break free.
He felt that spark running between them, and though it was only for a moment, he was processing things like the horse's heart rate, his breathing, the tightness of his lips... he smiled at Dash kindly. "Your first kiss?" He asked, his tone tender and inquisitive, not playful and teasing like it had been before.
When the horse had snapped out of his moment of passion and stupor, Prowl chuckled lightly.
'What're you doing, soldier?'
Prowl's stern voice asked from the very back of his head.
'I gotta stop... I... I can't do this... I can't be his first. He's a nice boy- a sweet guy- he deserves someone he could be happy with, someone he could have a future with. What are you doing, soldier?'
The coyote's expression softened, his eyes becoming a little scared and shameful as he averted his gaze, staring down at the ground. "Dash, I-" He spoke, but another voice in his head spoke up again, this time, it was kinder, more soothing... supportive.
'You're not a soldier anymore, Prowl.'
The coyote gazed back up into the stallion's eyes, smiling a little embarrassedly as he spoke. "Dash, it's cool... we're still friends."
'You deserve to be happy too. You deserve to settle down, to find love, start a family, and be happy. You deserve to make someone happy, and feel safe, and loved. You've been running your entire life, and none of that is gonna change unless you do something about it.'
'You like Dash. You've liked him for a very long time. He's kind, sweet, handsome, and hot as ever loving fuck. Don't you think it's BETTER that you're his first, rather than some nutjob who'd take advantage of him? He's a big, strong guy, independent guy, but he's got a wonderful heart. A vulnerable one. I ain't a soldier anymore, sure... but my ma raised me better than this. Man the fuck up and make him know everything will be alright.'
Prowl inhaled, held it inside for a moment, and exhaled to calm himself. "And... I know it's from the left field, but I
like
you, Dash, I
really
like you. I've always wanted to tell you, but... the long distance thing, I just didn't think it'd work out. I didn't wanna fuck anything up between us because you make me so damn happy whenever I see you online-" He bared his fangs and pressed his forehead against Dash's broad chest, shutting his eyes tight as his paws clenched into fists, the biceps framing the horse's face flexing, showing off the thick veins running over his muscular arms and forearms.
"Heh, look at me, a grown man freezing up in front of the guy he likes..." He teases himself with a chuckle.
The coyote relaxed his tense muscles and exhaled again, gazing back up at the stallion's face, his expression a little nervous, but resolute in what he was doing. "I finally met you, Dash, and I just don't think I can hold back anymore... I'm happy, so happy we became friends, and I want to be your friend, but I can't help wanting more, man." He places a gentle paw on the stallion's cheek, rubbing it slightly.
"You're a great guy, responsible, smart, amazing- and even more handsome up close than I could ever dream of! I'm sorry if I'm coming off as strong, but I can't help myself around you, buddy..."
"So no, I'M sorry." He leaned forward again, "-For this." and pressed his lips against the horse's in a warm, loving kiss, his dark-lidded eyes slowly shutting as he held it.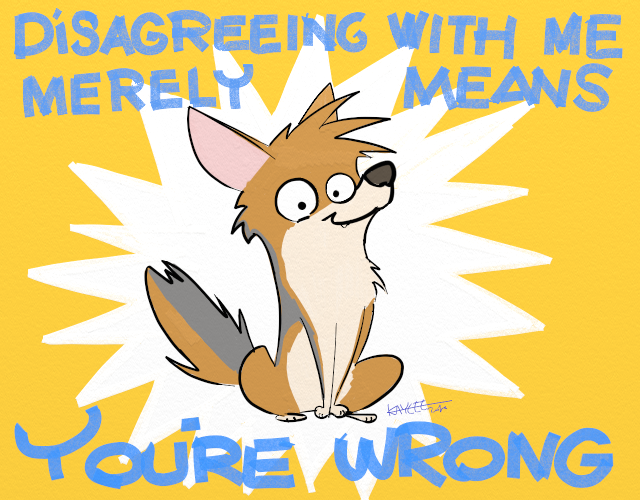 "I don't suffer from insanity, I enjoy every minute of it!"